This guide is here to help you converting
VCDs and SVCDs you may have created in the past to DVDs. There are more ways
to do these conversions but the way
show here is probably the best one. We are going to use TMPEGEnc.
Please note that you should not
expect the quality of the DVD to be as good as the DVD movies you buy. The
quality will be the same as the VCD / SVCD you have.
This guide re-encodes the video the MPEG2 DVD. It takes longer time than
the guide you can find here but it is much more easy. I suggest you follow
the other guide though.
First of all you'll need to locate the .dat file that contains
the video in your VCD. It is in a folder called MPEGAV. Double-click and
open this folder.
---
The file we are
looking for will have this name. Select it and copy it to a folder in
your hard disk. Rename it to video1.dat. Do
the same for the same file in the second CD (and the third…) and name
it video2.dat (video3.dat… etc). Finally you should get this: (note that
SVCD have .mpg files, but this is really no problem, just leave them
as they are).
---
If you get something like this then we are ready to start
encoding. Start TMPEGEnc Plus.
---
First of all we need to change a setting. Close the wizard
and go Option -> Enviromental Setting. The in the General tag select the
Open sequence files as a movie option and click OK. Now go File -> Project
Wizard to restart the wizard.
---
Here select the right Option between PAL and NTSC (1). As
audio format select CBR MPEG-1 Layer II (2).
---
In the next screen select Browse. Select All files (1) so
that you can see the files with .dat extension and open video1.dat file.
---
In the next screen
make sure that the same dat file is also loaded as audio source and click
Next (twice).
---
Here make sure that the lenght is equal to the whole movie
and not only the first part (1). Then set everything as shown here. I suggest
you use 98-99% of the disc. Click Next.
---
Finally you come to this screen. Select Option (1) if your
authoring program needs it (DVD X Maker does), slect to start immediately
(2) and click OK.
---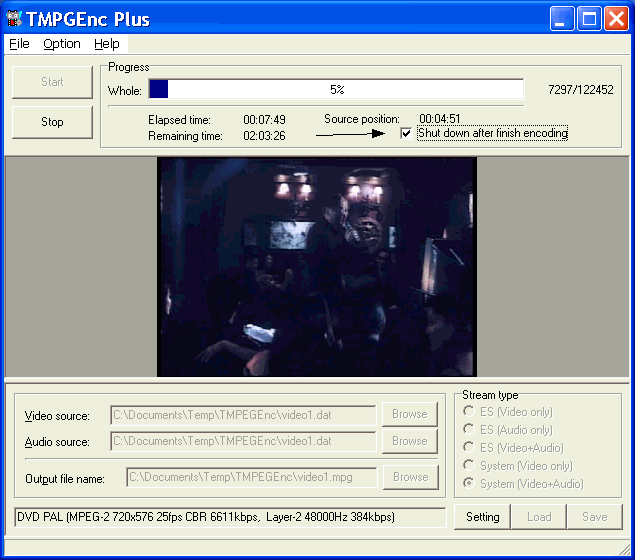 This is it! The encoding starts.
Do some patience and it will soon be over. Select Shut down after finish
encoding if you want to sleep or go somewhere else and leave it encoding.
After the encoding is finished you'll need to author the DVD with the
mpg file you'll get. We have some guides for authoring:
> Using DVD
X Maker
> Using TMPGEnc
DVD Author
---
Note:
Sometimes .dat files
are corrupted and create problems in TMPEGEnc Plus such as
freezing the program. Since I had some touble I suggest you get VCDGear software
you can find here and perfom
an error fix just before you start encoding: